---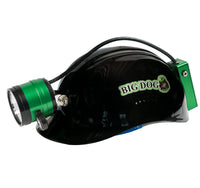 Introducing an advanced headlight with superior strength, rigidity, and brightness in an ultra lightweight 17.6 oz model. The entire light is made from 100% machined aluminum, including the battery box.
The super bright main spotlight has 4 settings with a burn time of 2.5-3 hours on high. The white walking light has improved width and brightness, and burns 18 hours on high. The red and green color light burns 38 hours on high.
Available in Soft or Bump Cap 2-year warranty.