---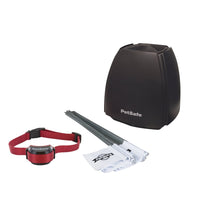 The PetSafe® Stay & Play™ Wireless Fence for Stubborn Dogs allows you to create a safe and secure boundary around your yard without the hassle of burying wires or installing a physical fence.
To use, place the system indoors and then adjust the circular ¾ -acre range to cover the perfect size area for you and your pet. The portable system can be set up in as little as 1-2 hours and can easily be taken with you when you travel. Your dog can be trained in as little as 2 weeks by following the training guidelines. The PetSafe® Stay & Play™ Wireless Fence for Stubborn Dogs will give you peace of mind when your pet plays outside and it will give your pet the freedom to explore without the confinement of a physical fence or a leash.
The Stay & Play™ Wireless Fence Receiver Collar for Stubborn Dogs features the highest intensity of static correction for the most persistent pets. The collar contains 5 adjustable levels of correction along with a tone-only mode. The collar is waterproof making it easy to safely contain your pet regardless of weather conditions. A low-battery indicator lets you know when the collar is in need of a recharge. The collar recharges quickly in just 2-3 hours. The collar is recommended for pets who weigh over 5 lb. and the strap adjusts to fit neck sizes between 6-28 in. The ergonomic design of the collar provides added comfort for your pet.